2018 - Report by Peter and Steven (engl.)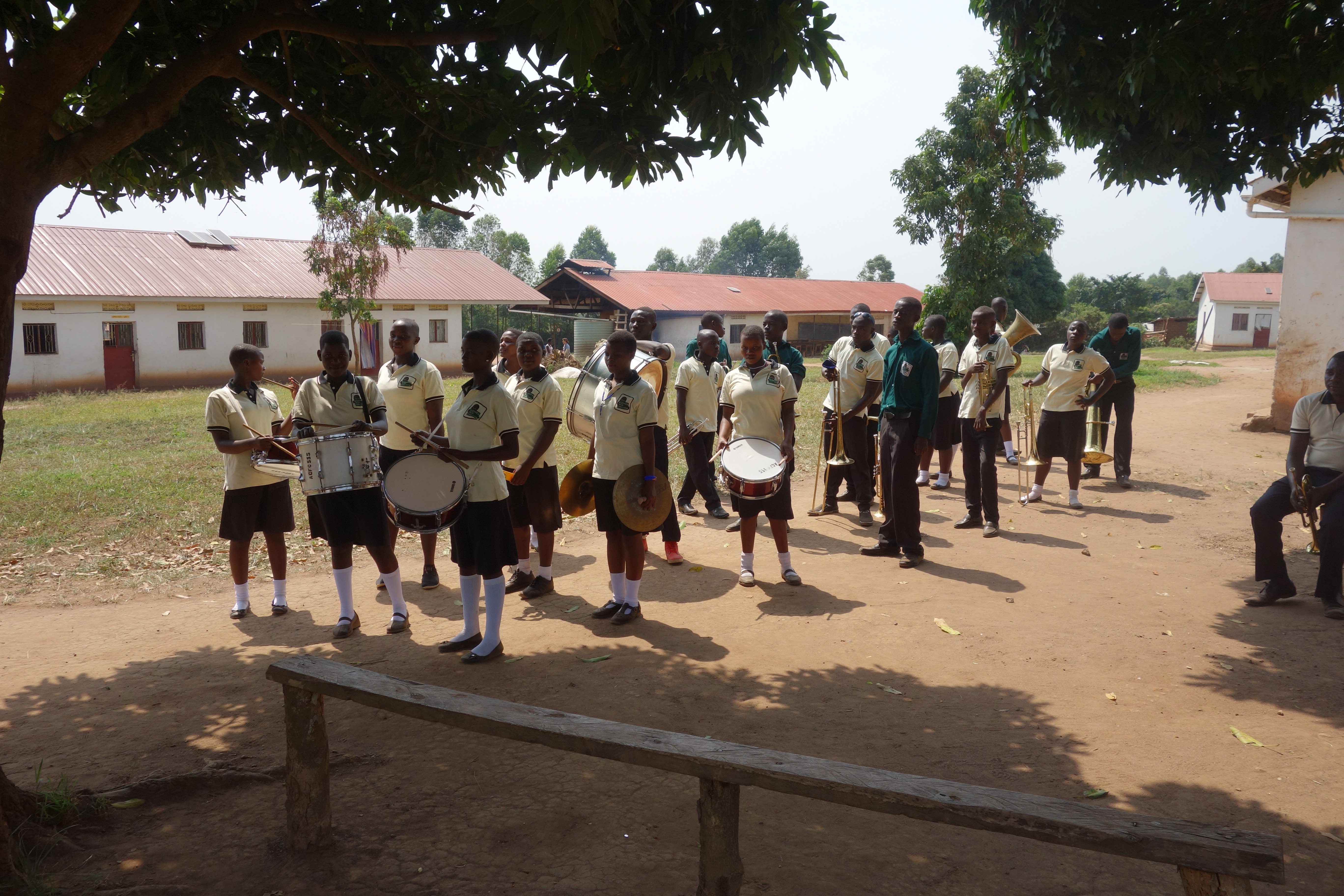 "We love our school Nateete Vocational Secondary School"
By Peter Siifa and Steven Byabagambi, students of this school.
Our school is a beautiful and a lovely school. You reach the school by turning off the tarmac road from Kampala/Mityana to Mubende at Katabalanga. The school started up almost 10 years ago and we are grateful to our many donors and volunteers for helping it to grow constantly to become one of the largest in Mubende district. There are almost 800 students at the school – 220 in nursery, 410 in primary and 170 in secondary. Approximately half of the higher primary and secondary students are boarders.
It has very many interesting things and a lot of activities are taking place. These include many agricultural activities in the 6 acres of our school compound: bee keeping, poultry keeping, cattle rearing, a piggery, and many others. These activities take place to improve the development of the school community and add more skills to students.
In addition the education of the students is excellent due to the presence of professional teachers, enough textbooks and novels and short stories in the library, large classrooms for every class. Good sanitation helps to maintain the students' health as well as that of their teachers.
Not only that, students get a lot of skills from the vocational workshops taking place at school. These workshops include: tailoring, carpentry, computer and bicycle riding. In all of these, we learn about the materials, the tools and then we use these to make things that our school and other schools (Butimba) need. For instance, we make nail-boards, we paint boxes and signs for organic and non-organic rubbish (see photo), we sew uniforms and we type our curriculum vitae in the computer class. A new activity is teaching girls how to ride a bicycle which should open career opportunities for many jobs in rural areas where you need to ride a motorbike.
The diet in the school has steadily improved over the years. Students now feed on a variety of meals during the week. Most meals are simply posho and beans, but on some days the kitchen cooks cassava, rice and some vegetables such as cabbages, eggplants and carrots from our school farm. This helps keep the students healthy all the time.
Of course, practising many sports has also helped to improve the students' health. We play football, netball and volleyball and do athletics and other sports too. Volleyball, in particular, is a sport we play every day with students and teachers, boys and girls, together. This regular physical exercise prevents diseases attacking bones and muscles. And of course, these sports have helped to improve the students' talents – enabling them to win several competitions against neighbouring schools, villagers and against the team of builders who are constructing our new school for disabled children.
One very special unit in our school is the brass band which practices regularly and performs for celebrations such as visitors and parties. Another cultural activity is our weekly film evening every Saturday.
Different volunteers come to our school and provide many learning activities; some teaching, but also fun team games such as the city development "Plan It" simulation (see photo) and running every Sunday morning.
Really, Nateete is a wonderful school. We love it!