Preventing pregnancies through sanitary pad workshops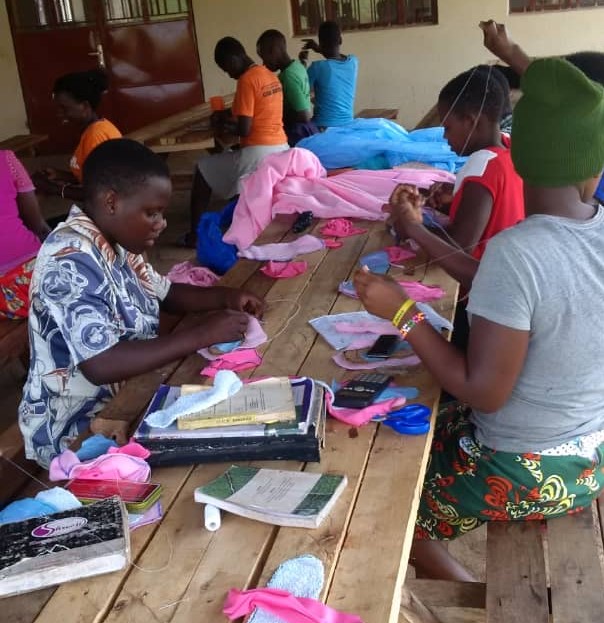 Unwanted pregnancies among minors have been a major issue in Uganda since the beginning of our work there. The poor living conditions of many families tempt young girls, often no older than 13 or 14, to trust promises of a better life by young men and to engage in sexual relations with them. Contraception is often not used: girls do not dare to ask about it or are often ignorant and do not know how to protect themselves against pregnancy and diseases; men do not care about contraception or find it too troublesome. Since Uganda's schools have been closed since 20 March due to the COVID-19 pandemic, an increase in underage pregnancies has been recorded nationwide. In some districts, the official figures have climbed to over 25%, and it is suspected that unofficially the figure is even higher, as many parents do not report the pregnancies and negotiate a financial deal with the child's father or his family so that the case is not reported to the police.
Difficult conditions, therefore, for the work of our social workers. For many years, they have been meeting the girls regularly in their own schools for counselling and educational talks. However, they often experience resistance from the population, because in some places the opinion still prevails that if a girl knows about her body, sexuality and contraception, she is more likely to have sexual intercourse. One way we reach the girls is through workshops where they make sanitary towels themselves. These sanitary products are expensive and not always available in the villages, and many parents cannot afford them. Therefore girls have to stay at home (and away from school) during their periods, often helping themselves out with banana leaves or old rags. This in turn leads to infections and diseases. Others get money for the pads from their "boyfriends", unfortunately often in return for sex.
In the workshops, the girls sew washable, recyclable sanitary towels themselves and at the same time social workers and guidance counsellors use the opportunity to talk to the girls about their worries, fears and the taboo subject of sexuality. Since the beginning of September alone, we have been able to reach over 650 girls in these workshops at all our school locations. Our social workers are convinced that these contacts have prevented worse things from happening.