Stay in Uganda by Stefan February/ March 2022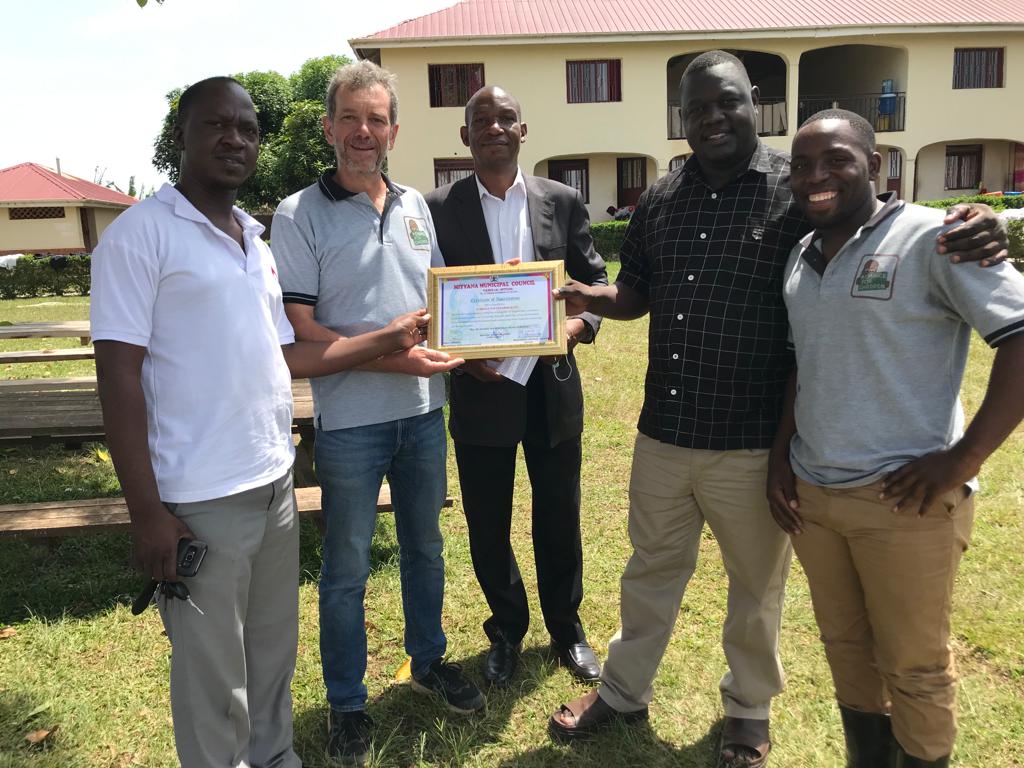 Welcome to Uganda!
That's what it meant for me this morning when Disan, our trusted driver, picked me up at the airport.
From the airport, after a stopover in Kampala, we went straight to Tanda to our school for the deaf. 127 children are taught there in sign language. By the way, unfortunately there is no international sign language. So the sign language here is as incomprehensible for those who know it in Austria as it is for me. I am glad that I can remember the greeting signs, and my own name, so the sign for it: a grip on the sign cap that I wear here all the time.
Day 2
Today was a big workshop for our headteachers in Nakaziba. It was the last of a whole series of workshops given by our board member David for different groups of our staff, but also partly for young people. It's great to see the team going from strength to strength.
I used the time to have a look at 3 of our kindergartens in particular. At the moment, the students of our kindergarten college are working there as well as our teachers. They have just practical month.
During the playtime in the kindergarten they are now also learning how to ride a bike. Especially for girls something extraordinary. In Uganda, riding bicycles and motorcycles is mainly reserved for the male sex. But not so with us! After the workshop in Nakaziba, the ladies motorcycle group met for training.
Day 3
It is very nice to see how life has returned to the schools after almost two years of lockdown. During this long time we had only small group lessons in our schools. This was better than nothing, but still no comparison to the normal school routine that has now returned. Only our handicapped facilities were allowed to remain open thanks to a special permit.
Most of my time today was spent in the big monthly Headmasters meeting. And it was great to hear how school has started in all our locations, but also a bit tedious......after all there are 9 Kindergartens, 8 Primary Schools, 3 Secondary Schools, 5 Schools for the Disabled, one Kindergarten School.... and all had something to report. About 4,500 children and young people are now being taught in our educational institutions.
And now after a long day there is a little farewell for our board colleague David, who will be taken to the airport tonight. And A Chance for Children would not be what it is, if this opportunity would not be used as a learning opportunity. So many young people get to give their first big speech in English.
Day 4
Our cook in Nakaziba has the weekend off. Then the young people themselves take over the kitchen. They cook on the wood stove in huge pots made by our locksmiths.
Poscho and beans are served three times a week. This is a polenta-like corn porridge with beans. This may sound monotonous, and it is, but it's still better than in most other schools, where it's served six times a week. And we even have salad with it. Something the youngsters were hesitant to try at first, but now love.
For those who still have some of their pocket money left at the end of the month, which we pay them, Peter and Vincent make chapati. These are small dough patties that are eaten plain or, if you have a larger budget, filled with egg and tomato as so-called Rolleggs.
Selling these chapati is the "small business project" of the two. Under guidance, they thus start their own business within the organization and also share in the profits.
Since Saturday is only half a working day, there is also enough time for brass band training. ....or even just to play ball.

Translated with www.DeepL.com/Translator (free version)